John Dahlquist has been with Geek Squad longer than Geek Squad has been with Best Buy.
He first joined the tech-support task force 21 years ago, and he's been an Agent ever since. He even has a special badge to prove it.
Agent Dahlquist is one of the nearly 60 Geek Squad Agents around the country receiving newly redesigned badges this week. The Agents all have been with the company continuously since at least 2004, when Best Buy rolled out Geek Squad across the U.S. and Canada.
This week was chosen because it marks the two-year anniversary of a major Geek Squad brand refresh that included an updated logo and a new hybrid Geekmobile.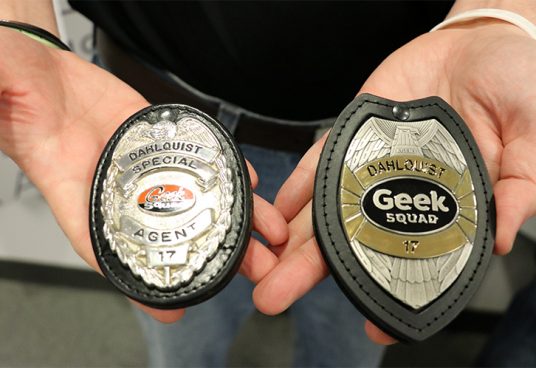 One Geek Squad, one badge
The newest version of the badge is the fourth iteration. In addition to the Agent's last name and badge number, the modernized badges include gold markings to commemorate five, 10, 15, 20 and 25 years of service. And now all badges simply list "Agent" instead of six individual ranks: Precinct Agent, Field Agent, Autotech Agent, City Agent, Covert Agent and Agent Defender.
"Looking at this thing, that's pretty cool," Agent Dahlquist said after receiving his new badge in a surprise ceremony on Wednesday. "One of the biggest changes, I would say, with this badge over previous ones, is the unity among the ranks. It signifies bringing everybody together."
Over the years, Geek Squad has grown to 20,000 Agents, and badges are an important part of the culture. Employees must work for 18 months before they're eligible to get one. The shield is a symbol of trust, strength and pride. It's worn on the left hip and should never be lost or forgotten.
Robert Stephens awarded the first badges to Agents in 1996. The badge design was updated after Best Buy acquired Geek Squad (or vice versa depending on who you ask) in 2002, and again when the badge honor was extended to all Agents, not just in-home Agents, in 2013.
To date, Geek Squad has assigned more than 137,000 badge numbers.
"If you think of where Geek Squad has been over the years, we've come a long way," said Geek Squad Chief Inspector Nate Bauer.
Pictured (left to right): Geek Squad Agents John Dahlquist, Scott Lepsch and Rod Villegas.