DETROIT — Earlier this summer, a group of teens fanned out across southwest Detroit with an assignment: Make a video that celebrates their neighborhood using every letter from A to Z.
So, they split up and illustrated landmarks by letter. For instance, C is for Clark Park. Then they took photos and video, learned how to do voice-overs and recorded them at the Best Buy Teen Tech Center. They'll edit and aim to complete the video this fall.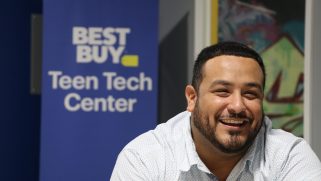 "Once you get them going, they'll learn and teach me," said Francisco "Cisco" Tinoco, the center's coordinator and ABC project assigner.