This summer, 17-year-old Joe Hernandez had an opportunity to design his own PopSockets PopGrip, and make his voice heard at the same time.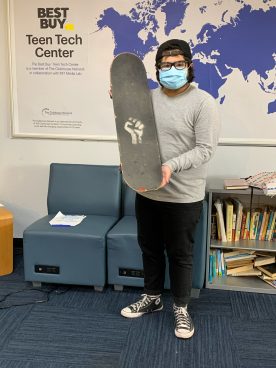 Joe's design, a raised black fist on the background of a Pride flag, represents the importance of looking at activism through the lens of intersectionality — something he learned by having friends in the Black and LGBTQIA+ communities.
"I thought it would be a good idea to try and show that equality is more than just a few steps in one direction," he said. "It needs to be a giant leap in multiple aspects."
The high school senior from San Antonio was one of 17 teens from across the United States who participated in a program to design the smartphone grips for a cause. The sale of the teens' designs benefitted their nonprofits of choice, including organizations committed to social justice and fighting the ongoing effects of COVID-19.
The program is a partnership between Best Buy Teen Tech Centers and PopSockets.
PopSockets designers and leaders taught the group how to enhance their graphic design skills and market their products to potential customers. The students even had the opportunity to video chat with PopSockets founder and CEO David Barnett to talk about entrepreneurship and starting their own tech-focused businesses.
"We are proud to empower teens to design products for the causes they care about," said Jennifer Forman, who leads Poptivism, PopSockets' philanthropic program. "Partnering with Best Buy and their incredible Teen Tech Center program demonstrates the power of two brands coming together for good and helping kids recognize their own potential to make lasting, positive change."
The students' designs are now available for purchase on PopSockets.com. Joe has designated the proceeds from his design to Americares, a relief and development organization that responds to people affected by poverty or disaster.
And while he enjoyed fine-tuning his design abilities, Joe was most excited about using his voice for change.
"It's a win to just get to be a part of showing that Black lives matter," he said.
Jessica Moes contributed to this story.