The school year is in full swing, and all those new back-to-school gadgets are (hopefully) being put to good use. Now, the goal is to keep them that way.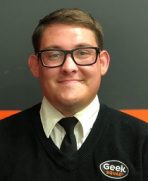 College-bound students spent the biggest chunk of their back-to-school budgets on consumer electronics this year,* and unfortunately (but not totally surprising), 18-to-24 year-olds are more likely than the general population to have accidents with their tech. College students are especially at risk for tech mishaps**.
Aaron Perkins is a senior at West Virginia University, and he's also a Geek Squad Agent at our store in Morgantown, West Virginia.